Your wedding at the Niederrhein
Find everything for your Niederrhein dream wedding - from the venue to the wedding dress

With its many castles and its scenery of meadows, rivers and willows - often enveloped by veils of mist - the Niederrhein region has been a popular wedding destination for a long time. Visit Niederrhein.de to find the venue as well as the photographer, the rings, the invitations, the wedding dress and everything else that the bride and groom might require for their dream wedding.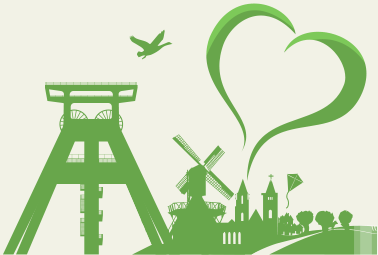 Wedding venue
The Niederrhein region boasts fantastic wedding venues which meet the most various wishes of a couple to be wed. Whether you want a historic venue for 350 guests or a fashionable restaurant for 30, you are very likely to find just the right setting for your Niederrhein dream wedding. Just browse through Niederrhein.de!
>> Wedding venue
The perfect pictures of your Niederrhein wedding

Not that you would ever forget the most beautiful day in your life! Nevertheless there are many emotional moments during a wedding that you would like to capture for eternity. Thus you urgently need a professional photographer who sees to it that you look as radiant as you feel. The wedding photographers listed on Niederrhein.de are as different as the happy couples and their tastes and wishes. Look for the one that suits your Niederrhein wedding best!
>> Find vendor on heiraten-niederrhein.de(GER)
Printed matter

If you plan to lure your wedding guests to the beautiful Niederrhein region you need to send them proper invitations which reflect your personal style. Providers of thank-you cards and other printed matter are also listed on Niederrhein.de.
>> Find vendor on heiraten-niederrhein.de(GER)
Wedding jewellery

Holy matrimony is usually sealed with wedding rings. Naturally this is the custom at the Niederrhein as well, even though the region is quite unique otherwise. See the list of goldsmiths and jewellery shops for your wedding requirements.
>> Find vendor on heiraten-niederrhein.de(GER)
Bridal fashions and more

For most brides, and even the grooms, the wedding dress is probably one of the most important features of a wedding. It is thus a good idea to shop around extensively and then follow personal desire and let the heart decide. Niederrhein.de has compiled a selection of various bridal shops and wishes you joyful anticipation of the most beautiful wedding at the Niederrhein!
>> Find vendor on heiraten-niederrhein.de(GER)
Flower decorations

The Niederrhein region definitely has no lack of florists to create the floral decoration for your wedding. See our list of providers and be enchanted!
>> Find vendor on heiraten-niederrhein.de(GER)